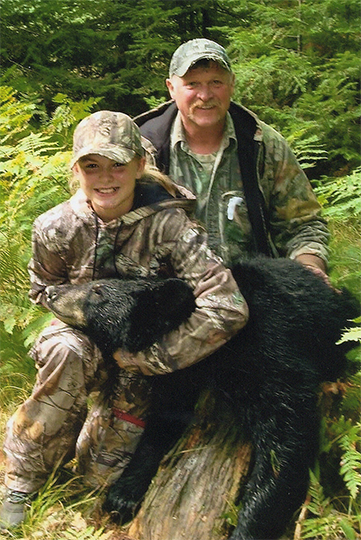 A Good day hunting...
Hunting is about traditions, shared experiences and making memories. Some of the most rewarding hunts that I have been a guide for have not always been those that bring in a 400 lb. boar. I'm not going to lie - those hunts are thrillers to be sure. But, when a grandfather brings his grandchild here for a guided family hunt - the excitement that it generates for everyone just can't be beat. The learning lessons, the generational bonding, the spark that is ignited for hunting... well, it's why I guide. I enjoy seeing hunters young and old, inexperienced or well seasoned all working together for a common goal.
If you are new to the bear hunting scene, I'm happy to take the time to show you the ropes. That is what hunting/guiding is all about, passing along knowledge so that everyone enjoys themselves.
If you're no green horn and know the ins and outs, my job is to put you in the right place at the right time so you can take care of business.
Outback Guide Service knows that each hunter is unique and has certain preferences. Share those preferences and I will work out a plan to your satisfaction. Likewise, I'm proud to offer bait sites and stands that suite handicapped hunters. Let me know what you need or what you expect and I'll generate your options to accomplish your goal.
My expectations are high for every hunter. I know that your expectations of me are equally high. I'm not afraid of the work it takes to exceed those expectations.
I emphasize safety first, not only with firearms but throughout the hunt. That includes making sure you are fully briefed on what to expect, comfortable in your stand and care is taken while transporting and processing your bear when you bag one.
The details are important to me. The proper baiting techniques, the best locations selected, based on years of following the bears' habits, these can make the difference between being successful and being disappointed on a hunt. Together we will make the absolute most of the season. Come check out Bayfield County and Outback Guide Service!